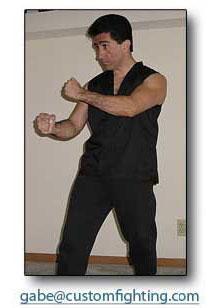 Gabriel Martinez is the owner/operator of the Challenge Fitness & Custom Fighting Aerobics & Martial Arts School in San Antonio, Texas.
Gabriel Martinez is an Internationally certified Personal Trainer and Group Aerobics instructor through American Fitness & Aerobics Association of America (AFAA). Additional certifications in Midlife Fitness for Women, Injury Prevention and Exercise Progressions, Offical Zumba & Zumba Gold Instructor. He is the creater of the Combat Aerobics class taught at his Gym.
Guro Martinez is a certified Mataas Na Guro under Grand Tuhon Leo T, Gaje Jr., and Maginoo Tim Waid, of the Pekiti Tirsia Kali System. Specializing in Dumog/Pangamut(DUMPAG) Empty Hand, Combat Knife/Daga y Daga.
Guro Martinez began his study of the Filipino Martial Arts during his service in the U.S. Air Force while stationed in the Republic of the Philippines from 1987 to 1991. He has instructor level certification in three Filipino Martial Arts.
Guro Martinez served in the U.S. Air Force as an Emergency/ICU Medic and served as a member of a Tactical Field Hospital undergoing jungle survival training in the Philippines He was also part of the Neonatal Air Evacuation Team for the Pacific Air Command.
He also holds a Second Degree Black Belt in Chinese Kenpo Karate, National Chinese Kenpo Karate Association in San Antonio, Texas under Sifu Gary Swan, and First Degree Black Belts in Kuntaw Arnis, Second Degree Black Belt in Kuntaw under Guru Roberto Lao, Angeles, City, Philippines.